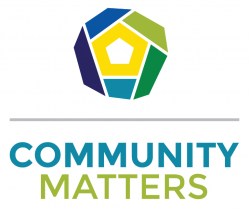 Name of Non-Profit Organization *

Community Matters

Today's Date: *
Wednesday, October 5, 2022
Organization's website
https://www.cmcincy.org
EIN / 501(C)(3)Number *

47-1191643

What year did your organization receive it's non-profit status? *

2014

Address *
2110 Saint Michael Street
Cincinnati, OH 45204
United States
County *

Hamilton

Your Name *
Patty Lee
Your Title *

Chief Advancement Officer

Your email address *
patty@cmcincy.org
Your Phone Number
(513) 244-2214
Executive Director's Name *

Mary Delaney

Executive Director's email address *
mary@cmcincy.org
What is the mission of your organization?
Founded in 2014, Community Matters exists to create a thriving and more just community by removing barriers to opportunity. Community Matters is rooted in the Lower Price Hill neighborhood of Cincinnati, Ohio, and we believe that all people can thrive when positive opportunities exist within their community. Our work focuses on four core areas: 1) Family Sustainability– ensuring all families have the resources to meet their goals; 2) Education Pathways– adult learners have the opportunity to advance their knowledge and skills; 3) Resident Leadership– residents spearhead community development and hold power in community institutions; 4) Thriving Community– Lower Price Hill is an affordable and vibrant place to live.
Which social causes (up to 3 choices) does your agency address through its programming? *

(7) Equality & Social Justice
(9) Hunger
(11) Poverty

Does your organization have volunteer opportunities available for students? *

Yes, Grades 9 – 12

List possible volunteer opportunities -or- a link to where they can be found on the web.