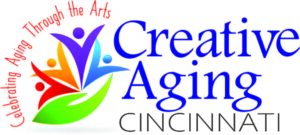 Name of Non-Profit Organization *

Creative Aging Cincinnati

Today's Date: *
Monday, June 19, 2023
Organization's website
http://www.creativeagingcincinnati.org
EIN / 501(C)(3)Number *

31-1129571

What year did your organization receive it's non-profit status? *

1985

Address *
P.O. Box 428638
Cincinnati, Ohio 45242
United States
County *

Hamilton

Your Name *
Bev Ross
Your Title *

Executive Director

Your email address *
director@creativeagingcincinnati.org
Your Phone Number
(513) 561-7500
Executive Director's Name *

Bev Ross

Executive Director's email address *
director@creativeagingcincinnati.org
What is the mission of your organization?

To provide arts and humanities programs that have a positive impact on the quality of life of older adults in the Greater Cincinnati Area.

Which social causes (up to 3 choices) does your agency address through its programming? *

(2) Arts & Culture
(12) Senior Services

Any comments about your selections you would like to share with the student philanthropists?
We provide one hour professional arts and humanities programs to seniors residing in or attending nursing homes, assisted living facilities, retirement communities, day programs, senior centers, church groups, etc. that are unable to take advantage of the arts in our community due to physical, cognitive, transportation and financial challenges. We offer over 150 different programs to choose from within the categories of music, art, history and culture, drama and unique and wellness. We provide over 600 programs per year and serve between 20,000-22,000 seniors per year.
Does your organization have volunteer opportunities available for students? *

No, sorry.