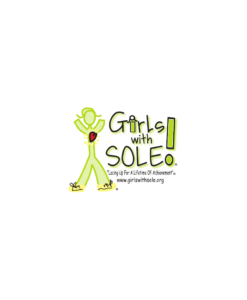 Name of Non-Profit Organization *

Girls With Sole

Today's Date: *
Wednesday, April 12, 2023
Organization's website
http://www.girlswithsole.org
EIN / 501(C)(3)Number *

27-0748028

What year did your organization receive it's non-profit status? *

2009

Address *
19885 Detroit Road #233
Rocky River , Ohio 44116
United States
County *

Cuyahoga

Your Name *
Liz Ferro
Your Title *

Founder/Executive Director

Your email address *
liz@girlswithsole.org
Your Phone Number
(440) 668-1509
Executive Director's Name *

Liz Ferro

Executive Director's email address *
liz@girlswithsole.org
What is the mission of your organization?

Use free fitness and wellness programs to empower the minds, bodies, and souls of girls who have experienced any type of abuse, or who are at-risk.

Which social causes (up to 3 choices) does your agency address through its programming? *
Any comments about your selections you would like to share with the student philanthropists?

We provide healthy coping mechanisms and positive outlets for negative emotions, as well as teach girls to feel empowered and more self-aware. Through the power of movement, art activities, and much more, the girls gain a higher self-esteem and our POWER Principles of Perseverance, Optimism, Wisdom, Energy, and Resilience.

Does your organization have volunteer opportunities available for students? *

No, sorry.