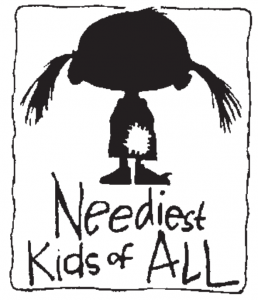 Name of Non-Profit Organization *

Neediest Kids of All

Today's Date: *
Thursday, October 20, 2022
Organization's website
http://www.neediestkidsofall.com/
EIN / 501(C)(3)Number *

31-6052858

What year did your organization receive it's non-profit status? *

1964

Address *
PO Box 54823
Cincinnati, OH 45254
United States
County *

Hamilton

Your Name *
Alison Cumby
Your Title *

Executive Director

Your email address *
neediestkidsofall@gmail.com
Your Phone Number
(513) 768-8549
Executive Director's Name *

Alison Cumby

Executive Director's email address *
neediestkidsofall@gmail.com
What is the mission of your organization?

Neediest Kids of All is a passionate nonprofit dedicated to fighting childhood poverty by providing basic necessities, supporting mental wellness, and funding educational experiences to underprivileged school aged children in the Cincinnati Tri-State area.

Which social causes (up to 3 choices) does your agency address through its programming? *

(3) Children
(5) Education
(11) Poverty

Any comments about your selections you would like to share with the student philanthropists?

Neediest Kids of All provides funding to over 300 schools in the Cincinnati tri-state area to provide basic necessities to students directly and in the moment.
These basic necessities include clothing, coats, shoes, boots, eyeglasses, hygiene kits, etc.We know if we provide a coat and snow boots to an elementary age child walking to school in a community facing poverty, this child's attendance will increase by up to 30%. Children who have high attendance are more likely to succeed in school.

Does your organization have volunteer opportunities available for students? *

No, sorry.