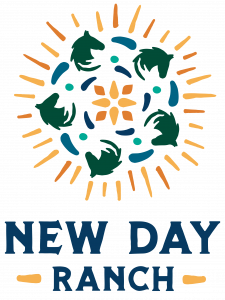 Name of Non-Profit Organization *

New Day Ranch

Today's Date: *
Monday, October 3, 2022
Organization's website
http://www.newdayranch.org
EIN / 501(C)(3)Number *

27-4722366

What year did your organization receive it's non-profit status? *

2011

Address *
14838 Rosenstiel Rd
Verona, KY 41092
United States
County *

Boone

Your Name *
Anne Sturgis
Your Title *

Development Director

Your email address *
development@newdayranch.org
Your Phone Number
(859) 322-2884
Executive Director's Name *

Beth Long

Executive Director's email address *
beth@newdayranch.org
What is the mission of your organization?

New Day Ranch is a 501(c)3 organization that uses horse-assisted therapy to address the mental and cognitive health needs of youth and adults. Emotionally intelligent and acutely sensitive, horses are unique contributors to the field of mental wellness and to New Day Ranch's programs – programs that serve over 400 individuals in the tri-state area each year.

Which social causes (up to 3 choices) does your agency address through its programming? *

(1) Animals
(5) Education
(8) Health

Any comments about your selections you would like to share with the student philanthropists?

We specifically focus on the mental and cognitive health of individuals of all ages, while educating participants about horses and the other farm animals we use in our programs.

Does your organization have volunteer opportunities available for students? *

Yes, Grades 9 – 12

List possible volunteer opportunities -or- a link to where they can be found on the web.

Opportunities vary by time of year and the skill sets of the potential volunteer(s). We encourage individuals to follow us on Facebook (

www.facebook.com/newdayranchky

) to learn of volunteer opportunities as they become available.