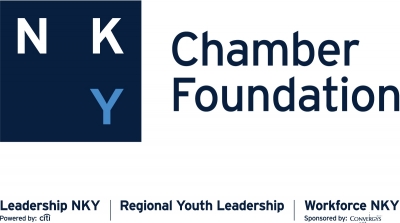 Name of Non-Profit Organization *
Northern Kentucky Chamber of Commerce Foundation
Today's Date: *
Wednesday, August 21, 2019
Organization's website
https://regionalyouthleadership.weebly.com/
EIN / 501(C)(3)Number *
61-1334712
What year did your organization receive it's non-profit status? *
1999
Address *
300 Buttermilk Pike, Suite 330 PO Box 17416
Ft. Mitchell, KY 41011
United States
County *
Kenton
Your Name *
Anna-Marie Whelan
Your Title *
Program Director, Regional Youth Leadership
Your email address *
amwhelan@nkychamber.com
Your Phone Number
(859) 578-6398
Executive Director's Name *
Dawn Dentham
Executive Director's email address *
ddenham@nkychamber.com
What is the mission of your organization?
The Northern Kentucky Chamber of Commerce Foundation serves as a backbone organization with a mission to positively enhance the business climate in Northern Kentucky by developing in-demand workforce talent and community leaders dedicated to economic growth and regional sustainability.

Regional Youth Leadership is a program of the NKY Chamber Foundation. The mission of Regional Youth Leadership is to cultivate the leadership skills of our youth resulting in the retention of talent to our region.

Which social causes (up to 3 choices) does your agency address through its programming? *

(2) Arts & Culture
(8) Health
(10) Life Skills

Does your organization have volunteer opportunities available for students? *
No, sorry.