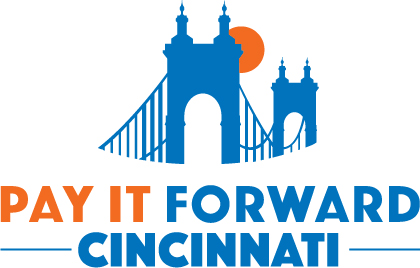 Name of Non-Profit Organization *
Pay It Forward Cincinnati
Today's Date: *
Wednesday, January 19, 2022
Organization's website
http://payitforwardcincinnati.org
EIN / 501(C)(3)Number *
46-2270687
What year did your organization receive it's non-profit status? *
2014
Address *
2943 Riverside Dr.
Cincinnati, Ohio 45226
United States
County *
Hamilton
Your Name *
Elena Teran
Your Title *
Director
Your email address *
elena.teran@pifcincinnati.org
Your Phone Number
(513) 580-6384
Executive Director's Name *
elena.teran@pifcincinnati.org
Executive Director's email address *
elena.teran@pifcincinnati.org
What is the mission of your organization?
To empower people to bring positive change to Greater Cincinnati. Through a variety of programs, we intend to have a measurable and lasting impact on our community.
Which social causes (up to 3 choices) does your agency address through its programming? *

(3) Children
(5) Education
(7) Equality & Social Justice

Does your organization have volunteer opportunities available for students? *
No, sorry.